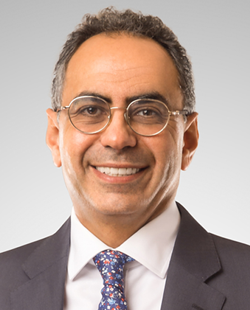 Dr. Hani Sarie-Eldin is the Founder & Managing Partner, Sarie-Eldin & Partners Legal Advisors. He is a Member in the Egyptian Senate and the Chairman of the Committee of the Financial, Economic and the investment affairs in the Egyptian Senate. He is also a Professor of Commercial & Maritime Law at Cairo University.
Dr. Sarie-Eldin has 34 years of local and international experience in International Arbitration, Business Law, including Commercial Law, Capital Markets, Privatization, Corporate Funding, Project Funding, Acquisitions, and construction contracts. Dr. Sarie-Eldin also served as an expert, and was appointed as a sole arbitrator, CO arbitrator and Chairman in more than 40 international arbitrations under DIAC (UAE), CRCICA (Egypt) and the ICC in Paris.
Dr. Sarie-Eldin supervises PH.D students in Commercial and Banking Law. He is President of the Middle East Institute for Law and Development of the Institute of International Law, Washington. He is also Lecturer of Law & Economic Development, Queen Mary Collage-University of London.
Dr. Sarie-Eldin has published several books in both English and Arabic. His published books in English include "Consortia Agreements in the International Construction Industry: With Special Reference to Egypt, 1996, Kluwer Law International." and "Commercial Companies in Egypt, 2000, Cairo University." His published books in Arabic include "Egyptian Companies Law, (4 editions: 1998; 2000; 2003; 2008), Dar El Nahda."; "Negotiation of Contracts and Preliminary Agreements, 1999, Dar Al Nahda Al -Arabia."; "Infrastructure Projects Privately Financed, 2001, Dar Al Nahda Al-Arabia." ; "Transfer of Technology, 2003, Dar Al Nahda Al-Arabia." and "Private Equity Fund, Theory & Practice (in print)."
Dr. Sarie-Eldin holds a Ph.D. in International Business Law, Center for Commercial Law Studies, Queen Mary and Westfield College, University of London in 1995, the Thesis was printed on the cost of the university and published in 1996. He received his LL.M. from the Faculty of Law, Cairo University through a dual diploma in of Private Law in 1989 and Public Law in 1988 ranking first in both classes. He also received his License en Droit from the Faculty of Law, Cairo University with Distinction in 1987.