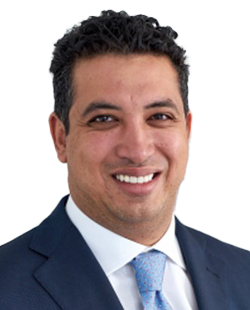 Ahmed Ibrahim is a full-time independent arbitrator, mediator and adjudicator. He has vast experience in handling cases involving major projects and transactions, often with significant sums of money in dispute. He has extensive experience in civil law and common law jurisdictions with an in-depth understanding of the legal systems in the Middle East.
"Peers and clients say: he is a talented, experienced and reliable arbitration lawyer". "He is very quick to pick up on the issues in a dispute, and excellent in presenting his analysis and conclusions." Who's Who Legal: Arbitration 2020
Ahmed has handled cases under most major arbitration rules, including DIFC-LCIA, Dubai International Arbitration Centre (DIAC), International Chamber of Commerce (ICC), the London Court for International Arbitration (LCIA), the Abu Dhabi Commercial Conciliation and Arbitration Centre (ADCCAC), the Swiss Rules of International Arbitration and Cairo Regional Centre for International Commercial Arbitration (CRCICA). In addition to his experience as counsel, he has served as sole arbitrator, co-arbitrator, or chairman of arbitral tribunals in more than 120 ad hoc and institutional arbitration cases.
"Ahmed Ibrahim impresses peers with his prowess in construction arbitration" and "He adopts a pro-active approach to the arbitration process and is able to maintain momentum even in difficult circumstances." Who's Who Legal: Arbitration 2019
Ahmed acted in complex and high value disputes in relation to projects in countries across the MENA region, Europe and Asia-pacific. His expertise includes acting as counsel or arbitrator in disputes across various industries, including construction, insurance, real estate, commercial, international trade, retail, power, oil and gas, renewable energy, nuclear, mining, water and utilities.