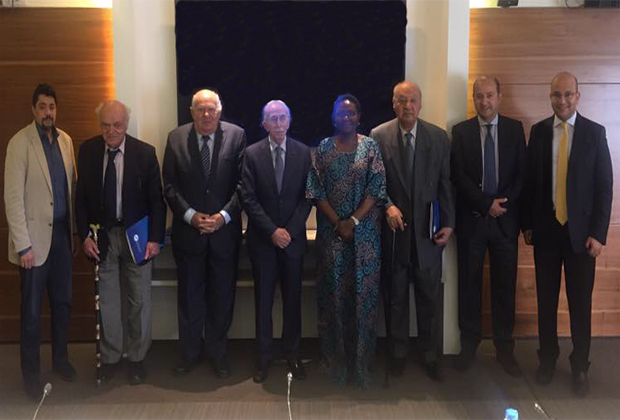 First Quarterly Meeting of CRCICA Advisory Committee in 2017, 8 April 2017
The CRCICA Advisory Committee (AC) held its first quarterly meeting on 8th April, 2017. The meeting was attended by 9 out of the current 15 members of the AC. The attendees were: Prof. Dr. Ahmed Sadek EL KOSHERI (Egypt) (Chairman of the AC), Dr. Ismail SELIM (Egypt), Dr. Emilia ONYEMA (Nigeria), Judge. Dr. Borhan AMRALLAH (Egypt), Counsellor Amin ELMAHDI(Egypt), Prof. Dr. Mohamed BADRAN (Egypt), Prof. Dr. Mohamed Salah ABDEL WAHAB (Egypt), Prof. Dr. Samir El SHARKAWI (Egypt), and Dr. Mohamed ABDEL RAOUF (Egypt). It is worth noting that Dr. Abdel-Raouf and Ms. Onyema attended this Meeting as new AC members. During the Meeting, Counsellor Amin ELMAHDI was unanimously elected to be the Chairman of the AC for the coming four years, and he presided the Meeting thereafter.
Dr. Selim; CRCICA Director, presented the Centre's orientation for the coming four years and announced the issuance of the French version of Arbitration Rules. Upon discussing the issue of repeated appointment of arbitrators raised by cases' incidents, AC members agreed on possible amendment of the existing Practice Note. AC members also discussed organizing a commercial investment arbitration moot involving African participants.