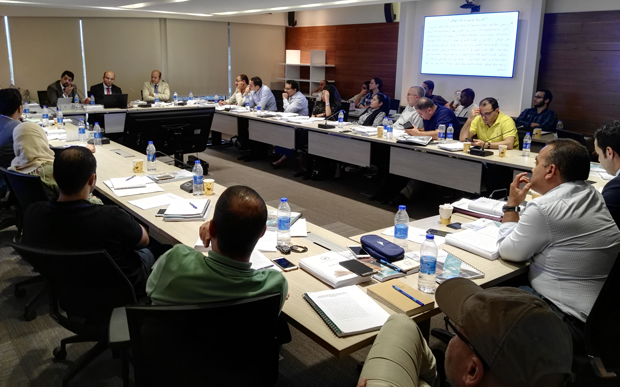 (equivalent to Module 2: Law of Arbitration), September 2017
CRCICA has held "the Comparative Commercial Arbitration: Theory and Practice" since 2011, as the first comparative arbitration program in the Arab World with a simultaneous bilateral tutorial methodology that combines Civil Law and Common Law systems. The program covers the main arbitration stages being the arbitration agreement, the arbitral tribunal, the arbitral proceedings and finally the arbitral award. As of 2016, the course was accredited as an equivalent course to Module 2: Law of Arbitration qualifying for the membership of the Chartered Institute of Arbitrators (CIArb).
On 17-23 September 2017, the sixth annual round of the course was held and tutored by Dr. Ismail Selim, CRCICA Director, Prof. Dr. Mohamed Abdel Raouf, Attorney at Law, Partner; Abdel Raouf Law Firm, and Prof. Dr. Mohamed S. Abdel Wahab, Chair of Private International Law and Professor of Dispute Resolution at Cairo University; Founding Partner and Head of International Arbitration, Zulficar & Partners Law Firm; Vice-President, ICC International Court of Arbitration.
38 Participants were in attendance, who were mostly independent lawyers, judges, private sector in-house lawyers, government and public sector lawyers and engineers.
Reference texts comprised an unprecedented collection of documents including comparative state court decisions of the European (British, French and Swiss), American and Arab (Egyptian, Saudi, Sudanese, Tunisian, Emirati, Iraqi and Syrian) jurisdictions; a unique collection of arbitration arbitral principles extracted from awards of many international arbitration institutions including CRCICA; national laws, model and institutional arbitration rules, international agreements and court judgments, the IBA Guidelines on Conflict of Interest in International Arbitration, the IBA Rules on the Taking of Evidence in International Arbitration, the IBA Guidelines for Drafting International Arbitration Clauses, analytical articles as well as expert commentaries.
The last day of the program was fully devoted to assessments through a number of mock cases carefully prepared as based on CRCICA accumulative experience over 40 years nearly in the administration of arbitration cases. Assessments consisted of two sections, each composing of a number of questions and mock cases out of which participants have to define the legal problems and provide their legal opinion based on the course. Participants were also required to draft procedural decision. A take-home assignment, consisting of the drafting of a complete award, was also required.
The course was a real success and was very well received as a unique comparative arbitration course qualifying practitioners to partake in international arbitrations under any jurisdictions.