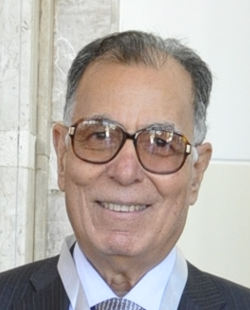 Prof. Dr. Fathi Waly was the Former Dean of Faculty of Law, Vice-President of Cairo University, and Head of the Civil Procedure Department for many years.
Dr. Waly is now an attorney before the Court of Cassation in Egypt and an International Arbitrator participating, as counsel, sole arbitrator, co- arbitrator, chairman of arbitral tribunal, in many national & international arbitrations (ICC, UNCITRAL, CRCICA, ADCCI, DIAC).
Dr. Waly is also the Head of the Egyptian Society for Civil and Commercial Procedures. He participated in the drafting committee for the Egyptian Code of Civil Procedure and in the Drafting Committee for the Egyptian Law of Arbitration. He has participated also in drafting the Code of Civil Procedure in Kuwait and in Palestine.
Dr. Waly is the author of many books, the most important are: Theory of nullity in civil procedures – several editions from 1959 to 1997; The enforcement in civil and commercial matters, several editions from 1962 to 2019; Law of Civil justice in Egypt, several editions from 1973 to 2017; Law of Civil justice in Lebanon, 1969; The enforcement in civil and commercial matters in Lebanon, 1970; Law of Civil justice in Kuwait, 1974; The enforcement in civil and commercial matters in Kuwait, 1975. Egypt, in International Encyclopedia of Laws, Kluwer Law International, The Hague, 2002; Civil Procedure in Egypt, Kluwer law International, 2020; Treatise on Law of Civil Justice, two volumes – 2017; Al-Wasit in National and International Commercial Arbitration, Theory and Practice, two volumes, 2021.  Articles and Annotations on Civil Justice and Arbitration (1961-2014) – 2015. He is also the author of several articles in Arabic, English and Italian published in national and international journals."