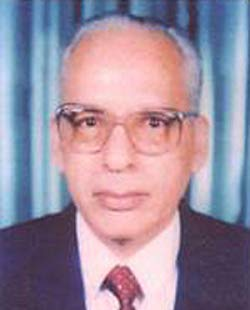 Dr. Mohiedin Ismail ALAMEDIN (1933-2018)
Former Senior Legal Advisor

Qualifications
Ph.D. – Commercial Law From the Faculty of Law, Cairo University, 1967.
Experience
Mobil Oil Egypt, translation Section, 1958-1959.
First National City Bank of New York, Cairo Branch, 1959-1961.
National Bank of Egypt as Banker and some time later as Senior legal adviser, 1961-1975.
Professor at Cairo University, Khartoum Branch, Faculty of Law and Faculty of Commerce 1972-1973.
Professor at Mohamed V University, Rabat, Morocco (for civil and commercial law), 1975-1982.
Professor at Mohamed I University, Oujda, Morocco, 1985-1986.
Manager Legal Dept., Credit International d'Egypte, 1986-1987.
Senior Legal Adviser, Riyad Bank, Saudi Arabia, 1987-1990.
External Examiner, Glasgow Caledonian University as of 1996 (for the Degree of Mphil).
Member for Egypt to the International Court of Arbitration at the International Chamber of Commerce, Paris from January 1985 till December 1990 (two consecutive periods each of three years).
Legal Consultant in Nader Law Offices, Jeddah and London, 1991-1993.
Legal consultant of CIE, CAI & Calyon Banks, Cairo, 1995-2005.
Accorded an Honorary Membership in the Association of Fellows and Legal Scholars of the Centre For International Legal Studies, Salzburg, Austria.
Retiring Fellow, Chartered Institute of Arbitrators, London.
Legal Counsel of Cairo Regional Centre for International Commercial Arbitration (CRCICA).
Legal Adviser of the Companies Organisation in the Ministry of Economy and Foreign Trade in the Egyptian Government, 1999-2001.
Teacher in the American University in Cairo (Commercial law), 2003.
Legal Adviser of the People's Assembly (Egyptian Parliament), 2003.
Author of "Awards of Cairo Regional Centre For International Commercial Arbitration – two volumes (in English) containing awards from 1984 till end 2000.
Author of "Drafting of International Contracts" (English).
Author of "Commercial Litigation In Saudi Arabia" (English).
"Legal Guide for Businessmen to Saudi Law and Practice" (in English jointly with Dr. M.M. Nader, published by the Chamber of Commerce in Jeddah).
Legal Practioner in International and domestic arbitration.