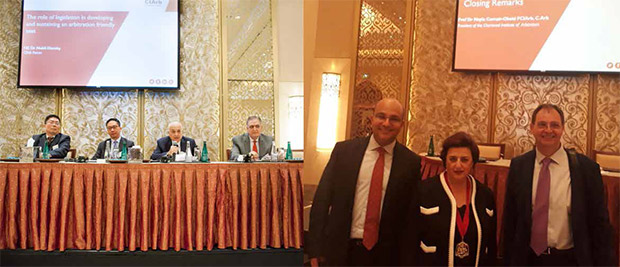 The Chartered Institute of Arbitrators launches three international conferences in 2017 to examine 'The Synergy and Divergence between Civil Law and Common Law in International Arbitration'. The series of conferences started in Dubai on 8-9 March to look at the topic from the perspective of the Middle East and Asia.
During the Conference, CRCICA was represented in two panels Discussions of a paramount importance, the first being, "The role of legislation in developing and sustaining an arbitration friendly seat" which was chaired by H.E. Dr. Nabil Elaraby, CIArb Patron and Chairman of CRCICA Board of Trustees.
Moreover, Dr. Ismail Selim, CRCICA Director, participated at the panel discussion entitled: "The perspective from Arbitral institutions on building the synergy between common & civil law". Dr. Selim's speech focussed on "The influence of UNCITRAL and CRCICA Arbitration Rules in building the synergy between civil and common law". Dr. Selim presentation was highly appreciated and he was requested to develop it in details in an article to be published in the CIArb Journal of Arbitration, issue of November 2017.
The other distinguished panelists were Mr. Alec Emmerson (DIFC), Dr. Nassib G. Ziade (BCDR), Ms. Lim Seok Hui (SIAC), Dr. Habib Al Mulla (DIAC) and Mr. Hisham Zegrary (CIMAC).
Discussions triggered in-depth debate about the need to increase understanding of both civil and common law systems, stressing the important role of arbitral institutions to harmonize both systems in the practice of arbitration.