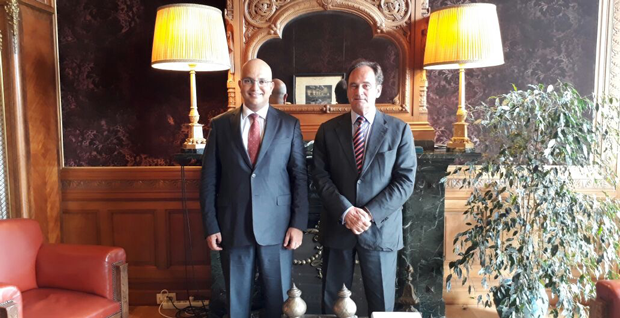 Dr. Ismail Selim, CRCICA Director paid a significant visit to the Peace Palace, the Hague, the Netherlands during 20-21 July 2017 where he had three noteworthy meetings at the Permanent Court of Arbitration (PCA), the ICCA Bureau, and the Hague Academy respectively.
Permanent Court of Arbitration (PCA)
On 20 July 2017, Dr. Selim visited the Permanent Court of Arbitration (PCA) and met Mr. Hugo Siblesz, the PCA Secretary-General, to discuss the prospects of fostering mutual relations between the CRCICA and the PCA which culminated in the signing of a cooperation agreement during the conference celebrating the 50th Anniversary of UNCITRAL: Global Inclusion and Dispute Resolution: Harmonizing Trends in International Arbitration" (9-10 December 2017, Cairo-Egypt). Among other modes of cooperation, the agreement enables PCA hearings to take place at the Cairo centre's premises and vice versa.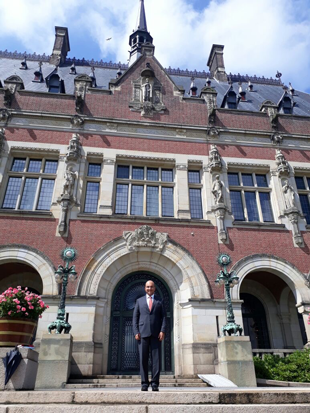 The organization of the Second Cairo New York Convention Roadshow was the subject of the second Peace Palace meeting held between Dr. Selim and Ms. Lise Bosman, Executive Director and Executive Editor of ICCA. The Roadshow (2 December 2017) supported Egyptian Judges' knowledge and practices in the application of the New York Convention and the Arabic version of the ICCA's Guide to the Interpretation of the Convention was among the most important guiding tools discussed at the Roadshow.
The Hague Academy of International Law


The last Peace Palace stop was a visit to "the temple of international law"; The Hague Academy of International Law. During the visit, Dr. Selim discussed with Prof. Jean-Marc Thouvenin, Secretary General of The Academy the possibility of hosting an educational program of the Hague Academy in Cairo in 2019, significantly in correlation with the 40th anniversary of the Centre.