CRCICA is proud to offer to the Afro-Asian Region a brand new highly-equipped hearing centre. Over an approximate space of 850 m2 located within CRCICA's own headquarters in Cairo, the new hearing centre is composed of 3 court rooms, 2 breakout rooms, 2 lounges, a technical room, a translation room, a reception and a terrace. With a panoramic view of the Nile, the longest river in the world, the hearing centre is a beautiful mix between modern look and oriental identity.
All three court rooms are being furnished with high-tech equipment. The main one, named after Dr. Mohamed Aboul-Enein, the former Director of the Centre, is a state-of-the-art utilizing latest features of presentation techniques. Premier video conferencing systems and interactive meeting room system are installed to insure high impact visual experiences and realistic meeting environments. High-tech installations also include the latest generation of wireless audio conference systems, simultaneous interpretation system and voice recording services.
Dr. Aboul-Enein's court room is also a bi-structural masterpiece with a possibility to have either a U-shape set-up for hearings with a capacity up to 30 persons or theatre set-up for training courses with a capacity up to 50 persons.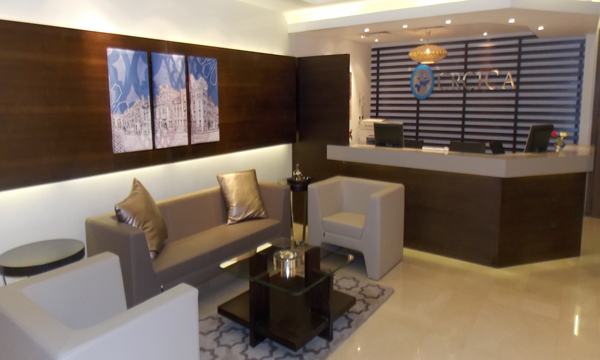 The other two court rooms have a capacity of 20 persons each and are named after the late Judge Mamdouh Attia, former Egyptian Minister of Justice, and Professor Mohsen Shafik, one of the fathers of the UNCITRAL Model Law on International Commercial Arbitration.
International practitioners rank the new CRCICA Hearing Centre as a remarkably distinctive hearing forum offering unique spatial and technical services as well as luxurious comfort and elegant beauty. Having used the technical facilities of the main court room, users including stenographers see it, besides being beautifully designed with a superb view of Cairo, as the most perfect environment for a hearing with state-of-the-art sound system and technical facilities. Parties and arbitrators alike agree that CRCICA new Hearing Centre goes far beyond their expectations.
The new Hearing Centre brings CRCICA's court and training facilities among the primes all over the world and is pragmatically thought not only to boost institutional arbitration in the region but also to encourage ad hoc users to utilize institutional facilities.
For more details about the rental prices of CRCICA facilities please contact info@crcica.org.eg