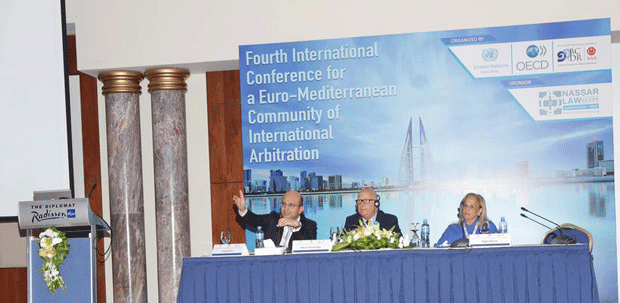 On the 19th of November 2017 in Manama, Bahrain, the Fourth Conference for a Euro-Mediterranean Community of International Arbitration was organized jointly by the (UNCITRAL) and the Organization for Economic Co-operation and Development (OECD) and the Bahrain Chamber for Dispute Resolution (BCDR-AAA). It aimed at promoting a sustainable Euro-Mediterranean arbitration community as part of a broader agenda for securing investments, key to stabilization and economic growth in the south and east of the Mediterranean region.
In the third session, Dr. Ismail Selim contributed to a panel discussion approaching practical issues related to impartiality and independence of arbitrators against the background of the IBA Guidelines on Conflicts of Interest in International Arbitration, the UNCITRAL Model Law on International Commercial Arbitration and BCDR-AAA's new arbitration rules. Other panel members were Mr. Adrian Winstanley, Former Director General of the LCIA and Dr. Nagla Nassar, Partner, Nassar Law Firm.
The examples discussed included a case in which an arbitrator had demonstrated bias by overreacting to a challenge; relations between counsel and arbitrators; successive appointments in related and unrelated cases; repeat appointments; and an arbitrator's utterances that suggested prejudgment of a case.
It is worth mentioning that CRCICA co-organized the Second International Conference for a Euro-Mediterranean Community of International Arbitration together with the UNCITRAL and the Organization for Economic Cooperation and Development (OECD) on 12 November 2015, Cairo-Egypt. The Second Cairo Conference was widely acknowledged to have been a major cornerstone in the whole project; exceeding the borders of the first very successful conference in terms of the numbers of attendees and the range of professions represented.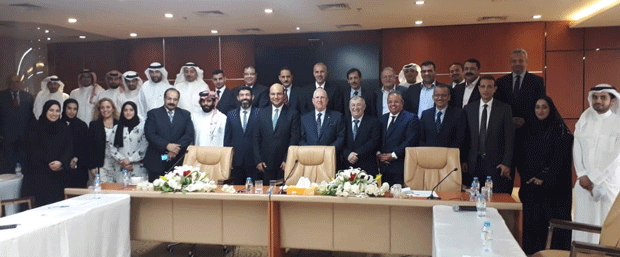 On 20 November 2017, Coun. Dr. Borhan Amrallah, Secretary-General of the Arab Union of International Arbitration (AUIA), Member of CRCICA Advisory Committee, and Former President of Cairo Court of Appeal, and Dr. Ismail Selim, Director of CRCICA, both delivered two lectures on: The enforcement of arbitral awards and the setting aside proceedings. The session was moderated by Dr. Khaled Serry Siam, Professor of Criminal Law at Ain Shams University and Director of Bahrain's Judicial and Legal Studies Institute (JLSI). The Lectures were attended by around 50 male and female judges serving in different Bahrain State Courts. Some of which carry the nationality of the Kingdom of Bahrain while the others were Egyptians seconded to Bahrain Courts.